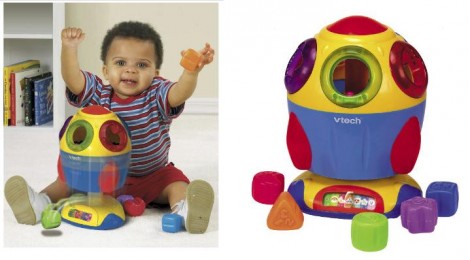 What I love about that baby stage is that there's no difference between educational and fun when it comes to toys, like this VTech Sort and Soar Rocket. Babies want to do nothing other than explore. I remember how much my son loved playing with his shapes 'cookie tin'. I found that really, all I needed was a couple of key toys and the baby gym and he was happy. The VTech Sort and Soar Rocket is exactly that sort of toy and it's been found at hte ELC for £6. Normally it can fetch up to £22 elsewhere. It sure pays to shop around!
As the name suggests, it is a shape sorter that aims to teach children about colours, shapes and counting as well as letting them enjoy music, fun sounds and silly phrases. Each shape that's correctly slotted into the rocket triggers a response. Once your child slots in all five shapes, the blast-off feature is triggered, resulting in exciting sounds and lights until the pieces are dropped out of the bottom. Your child can start the fun all over again.
Well that's what it says on the website, and frankly it sounds to me like the sort of toy my son would have LOVED. The shapes fall out of the bottom? That would have been it as far as he would have been concerned. I'm quite sure we would have spent hours doing just that over, and over, and over...
The question I think you need to ask yourself is, will you be able to stand it! You can take my handy tip - if it isn't this toy it will be something else. And they'll not get tired of it. You can rest your brain by quietly having CSI Miami or Eastenders playing on the telly. Try out the handy subtitle feature they have on digital telly these days. I tell you, those subtitles were a total lifesaver for my brain!
Thanks to hillsbills at HUKD!