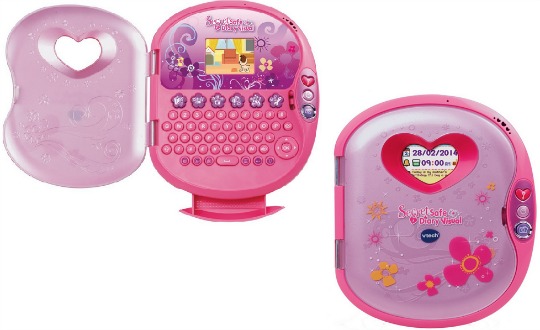 The VTech Secret Safe Diary Visual is something different for the kids. You know how we had a diary with a padlock when we were little nippers? Well that just won't cut the mustard these days. These interactive diaries made by VTech are the modern way of keeping our heartfelt emotions and secrets. You will see these sell for around the £40 mark normally but head over to Amazon and you will be able to bag one for just £21.53 plus you get FREE Super Saver Delivery too.
This VTech Secret Safe Diary Visual has a full colour screen and 0.3 mega pixel camera for those all important selfies. Rewind to back when I was a little girl and I would have LOVED one of these. This diary can be connected to a PC to upload pics or to edit entries.
No-one can read the content of this diary without the secret password. It's not just a place to noet down feelings either, there are twenty activities too like a virtual pet function and games.
There's a full QWERTY keyboard and shortcut buttons for ease of use. This would make an ideal gift for those hard to buy for tweens.