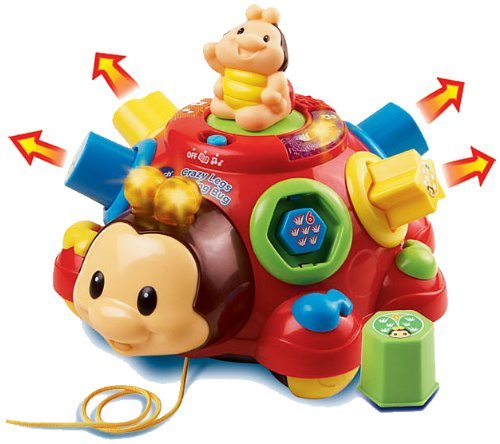 Amazon have 25% off the Vtech Crazy Legs Learning Bug. Normally £19.99 you can pick it up at the moment for £15.
The Crazy Legs Learning Bug introduces babies to shapes, counting and music. Kids from 12 months and older can pull or pop the colourful shapes, or spin the baby bug to learn about counting and music. This toy is stimulating and hands-on to develop curiosity and fine motor skills.
It receives really mixed reviews from parents, but has an overall 4 star rating from Amazon's customers. Some say it's the best purchase they've had, others think it's a waste of money. Looking through the reviews, it seems a durable toy, able to withstand some battering. It's also nice that it grows with the child - first a simple shape sorter, then songs and then questions, which children can and apparently do answer.
The biggest moans seem to be that the stickers come off and are easily eaten off, that it has no volume control - it's all or nothing with this fella- and so on.
This toy requires 2 AA batteries, which are included.