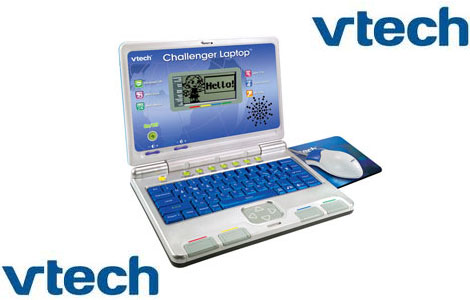 The VTech Challenger Laptop is on offer at Amazon for £16.65. That's the cheapest we've seen it on PlayPennies, and although you can get it at Tesco for the same, you'll have to add almost £5 delivery and Play have it for £17.99.  And Mail Order Express is a whopping £29.99.
Of course we all know kids should run and play and have imaginative games to stimulate them, but sometimes, it's nice to have them sit quietly and play too – and if that has an educational element, all the better.
The Vtech Challenger Laptop comes with a real mouse, has a full QWERTY keywboard and has 40 games and activities which are based on the national curriculum. Subjects include English, maths, music and basic French and a fun quiz game show format.
The games are suitable for single play or the  2-player mode and the progress report can be viewed on-screen if you want to see how your little one is progressing.
The VTech Challenger Laptop is recommended from age four, although one of the reviewers has a 3 year old who loves it.
It needs 3xAA batteries, which are included, but there doesn't seem to be any mains power source.