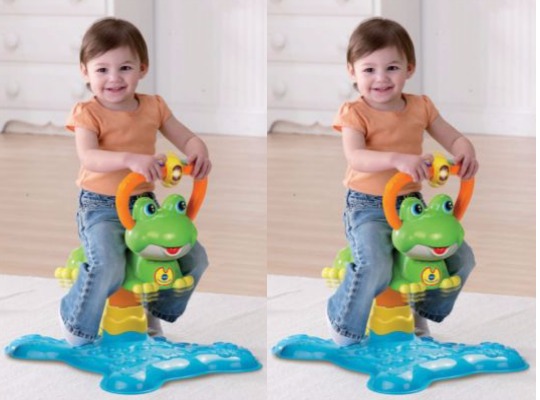 Struggling to pick something for a little ones birthday? Here is a right bargain... The VTech Bounce and Discover Frog is just £15.99 from Argos. This very same ride on toy would cost you £29.97 from Asda George, £29.99 from Toys R Us, £26.40 (Reduced) at Debenhams and £30 from Very.
The VTech Bounce and Discover Frog is suitable for children aged eighteen months and over. It has an exceptionally high rating of 4.8 on the Argos site which suggests to me that it is great value for money and well received by little nippers.
The jist of it is your little one can sit on it and bounce as music plays. There are buttons along the activity handlebar that will sound six sing-along songs and fourteen  melodies with the two exciting modes of play. It is an educational toy too as your child can learn the colours, numbers and  animals for example.
You can Reserve and Collect the VTech Bounce and Discover Frog from your nearest Argos store for FREE. Please note that these aren't in stock everywhere but there are still plenty of stores across the United Kingdom that do have them. Home delivery is unavailable due to this.