Viga Wooden Play Kitchens From £36.99 @ Net_Price_Direct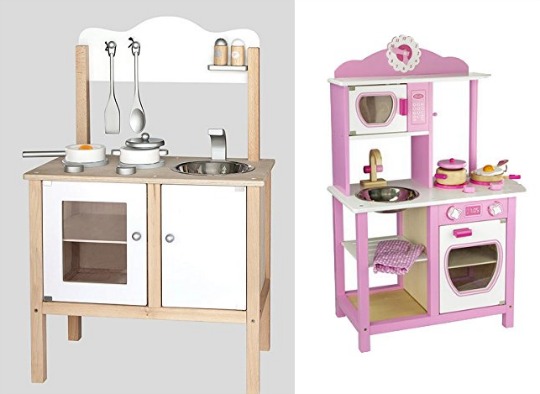 Something we are asked a lot for is Wooden Play Kitchens. We can see the appeal and we know how expensive they can be. Net_Price_Direct sell Viga Wooden Toys on their site and these include Play Kitchens. There's a choice of two, the Viga Princess Kitchen at £40.99 and White Wooden Kitchen with Accessories at £36.99.
The Viga White Wooden Kitchen with Accessories reminds me of one that IKEA sell. At £36.99, I am tempted to buy one for my son. It's white, and very unisex, unlike many play kitchens on the market that are aimed at girls. It includes accessories like a saucepan and lid, frying pan with egg, spatula, scoop and salt and pepper set. The kitchen itself features stove, sink, oven and cupboard.
If you have a precious, little, pink loving child, then the obvious choice is the Viga Pink Princess Wooden Play Kitchen. This one is a bit pricier but looks a bit more substantial. It does NOT come with the accessories kit like the basic white one, which is a shame.
Delivery costs £4.95 but it appears to be Next Day Delivery, so you cannot grumble at that.