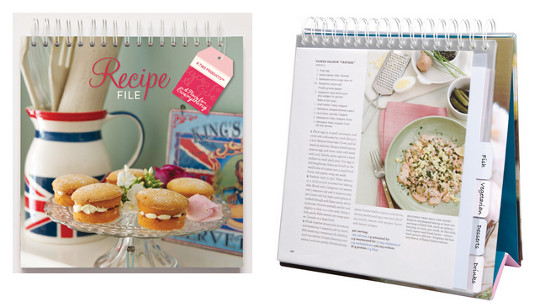 KTwo has a special offer on their Union Jack Recipe File, which, as you can imagine with the Jubilee and the Olympics has been a best seller this year. Normally costing £14.99 they've taken £2 off making it £12.99, and it qualifies for free shipping.
I must admit that I barely cook from paper recipes anymore and most everything is stored neatly (or not so neatly) and backed up (or not!) on my computer, but I know there are many who still do. My gran says it just makes the recipe taste better!
The Recipe File is perfect for storing favourite magazine clippings and loose hand-written recipes. Up to 90 recipes can be stored in 45 separate pockets and the flip top binding and six movable index cards are designed to make recipes easy to find. You can also buy 20 page refill packs if you run out of space.
There are also great practical features for using the file in the kitchen: the built-in stand allows easy reference when cooking and the wipe-clean laminated cover and pockets keeps everything clean - which is a definite pro on using the laptop in the kitchen. I can't tell you how many times I've had to clean flour and other baking remnants off my poor keypad!
The Recipe File won Gift of the Year (stationery products) in 2004 and remains as a popular item which is available at this price until the end of July.