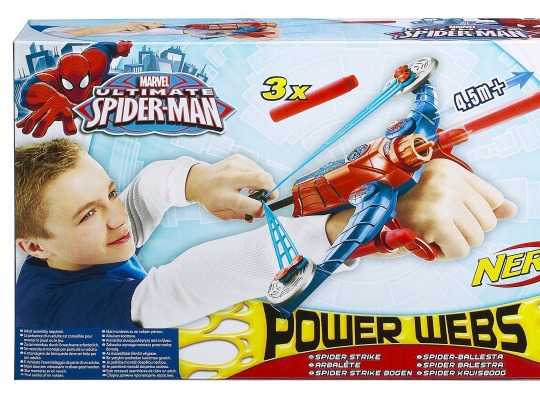 Trust me when I say that you do not want to miss this deal if you're the parent of a small fan of Spiderman. This Nerf Ultimate Spiderman Spider Strike Crossbow is reduced from £9.99 to just £4.99 at Smyths Toys right now.
I have sons who are Nerf Gun crazy right now, and they would be beside themselves with glee if I splashed out on one of these beauties.
I'm one of *those* parents who doesn't actively encourage my kids to play with guns, but somehow I've been persuaded that Nerf guns don't count. Which is how I've discovered that it can be ridiculously good fun to turn the Nerf gun on the kids from time to time...
Anyway, moving swiftly on... the Spider Strike Crossbow fires web darts at distances of up to 20 feet. You simply pull back as far as you can for a long shot, and then fire your dart at evil! Apparently no villain can stand against the web-powered accuracy of the Spider Strike Crossbow. Three web darts are included, and you can store them in the crossbow, which is pretty awesome because I am beyond bored of listening to 'Mu-um, we've lost all the bullets again!'
You'll get free shipping if you spend £39 or more. Otherwise standard shipping is £2.99, or you could use the free collect in store service once you've checked the stock levels.
With thanks to A10510m @HUKD