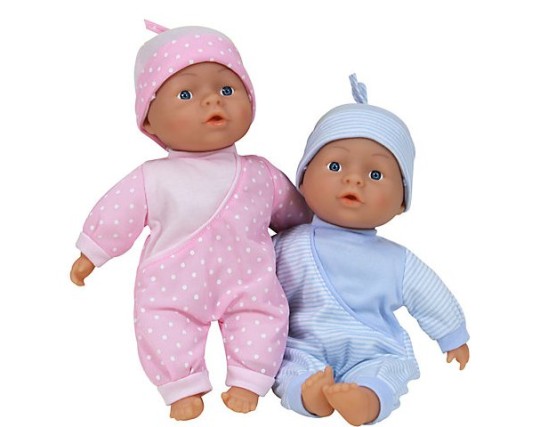 John Lewis are offering a set of My First Twin Dolls for £7.50 for the two dolls. Delivery from John Lewis is £3, but you can collect from either John Lewis or Waitrose for free. 
I really like this set from John Lewis. Apart from the fact that you're getting two dolls for £7.50 - the My First Doll from ELC is £10 each, and the Baby Born at John Lewis is over £16  - and could split them if you needed a couple of gifts on the cheap, it's great value for money.
One of the twins is dressed in a pretty pink spotted sleepsuit, while the other wears a "fetching" blue striped one.
They say they are suitable from 2 years.. I'll leave that up to your discretion, really. 
The reviews on these are fantastic. The dolls are apparently soft to touch and the kids love them.  I think they look like a brilliant value for money gift, myself!