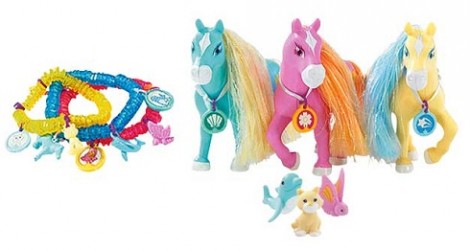 Beautiful, pastel coloured horses with luscious manes and accessories. Twilight Ponies are girly and lovely. Actually while I don't qualify as a 'girl' strictly speaking anymore, I find myself wanting some! Argos has this set on sale at half price, down from £19.95 to £8.99.
The Twilight Ponies are everyday ponies by day (well as much as you can be with purple manes) and transform into magic-glow ponies by night. This bumper pack includes three Treasure ponies, three Star Buddies, three Glow in the dark disc charms, three charm bracelets, three mini pony charms and three animal disc charms.
Make a great gift, something for the present drawer or you could even break it up into three sets if you have three girls, or want to do something different for a party bag. It is recommended for ages three and upwards.
The reviews on the website are mostly positive. For example, one customer comments that "these are lovely, my six year old little girl wanted them for her birthday, and has spent many hours playing with them with her fairies."
Then there this "bought these ponies at sale price for my grandaughter and she loves them! Extremely good value for the amount of items in the box."
There was one disappointed buyer though. "Bought it on clearance so was a good price but the ponies were smaller in size than i expected, would not get it if was at full price."
Thanks to summerjoo at HUKD!