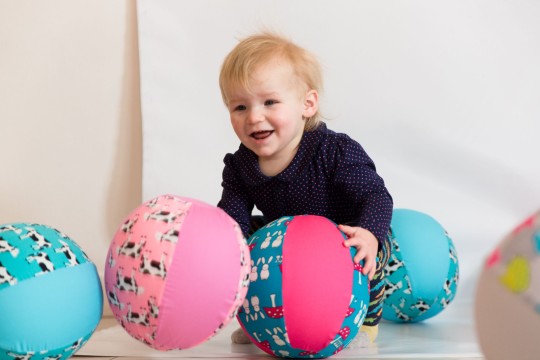 If you've ever felt like a mean mum (or dad) for taking a balloon away from your baby, then you might like the Bubabloon. It's basically a multi-sensory fabric balloon cover that transforms a normal balloon into a durable, unbreakable, reusable toy for children from four months. Clever, no?
The Bubabloon is available in a range of different colours and designs, and it makes any standard 12 inch balloon safe for babies, toddlers, big kids - and even grown-ups. It's made from 100 per cent poplin cotton, and the cover is machine-washable and comes in a pouch so it can be used repeatedly, making it handy for indoor/outdoor play or as a light, space saving toy when travelling.
Director of BUBABLOON®, Elena Torres, said:
"The original balloon toy my daughter received as a gift was a real hit and put my mind at ease knowing it made balloons safer. She's now almost two years old and still has hours of fun with the original and new versions of the toy. Following an extensive search, I just couldn't find anything of the same quality commercially available here in Britain so I decided to launch my own design and range for manufacture in the UK.  Lorna and I both know how beneficial it is to have that 'emergency toy' to hand – something that's simple, fun, washable and can be popped in a handbag, pocket or changing bag.  The emphasis was always to give parents peace of mind when their children were playing with balloons, and that's exactly what we hope our product will do."
Lorna Edwards adds:
"Balloons are such magnets for little ones, but the dangers are quite startling, so it was important for us to create a specially-designed cover that was not only fun but gives parents the confidence that the probability of kids choking, being startled by a balloon bursting or simply reacting to a latex allergy have been dramatically reduced."
Postage and packaging costs from £1.50.
We'd love to know what you think of this. Let us know in the comments, or over on our Facebook page!