Trunki Toy Box £14.99 Or 2 For £20 @ Trunki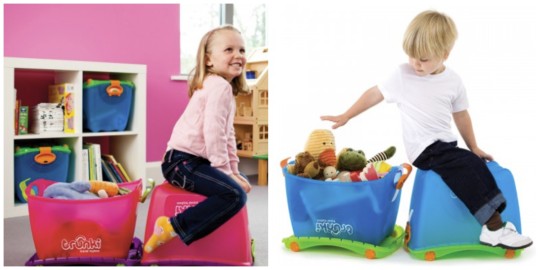 These Trunki toy boxes are just £14.99 direct from Trunki right now, or you can use the voucher code below to get two for just £20.
This is a special deal that's just for today only, so you need to get cracking if you want to snap these up.
For two weeks, Trunkiwill be running daily deals, offers and competitions but each is valid for one day only. They are posting the deal of the day to their Facebook page every morning and you'll be able to use it until 9am the following day, so it's worth keeping an eye on their Facebook page for special discounts, bundle deals and prize giveaways.
There's free next day delivery on these toy boxes too, and to get two for £20 you just need to enter the voucher code TWOFORTWENTY into the relevant box when prompted, once you reach the basket checkout stage.
The Trunki toy box is the world's first ride-on travelling toy box. Stackable and connectable, it's billed as being perfect for taking your children's toys with you wherever you go and keeping them tidy while you're at home - so could be ideal for stashing in the car if you're driving off on summer holidays any time soon.
I'm thinking of investing in a couple of these for transporting all our stuff back and forth to Granny's house, and keeping it from looking like a bomb site when we're there!
With thanks to radders112 @HUKD