Trek Buddy Carry-On Hand Luggage £9.99 @ Home Bargains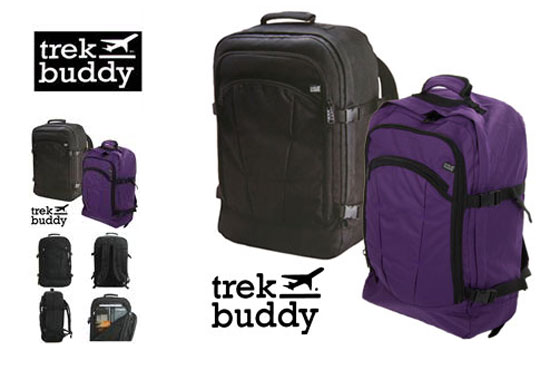 Home Bargains are selling Trek Buddy carry-on hand luggage cases for £9.99 rather than £24.99.
You don't have to be flying anywhere to find these Trek Buddy carry-on hand luggage cases useful - they can be called into action whenever you have occasion to stay away from home for a short time, or need to take lots of bits and pieces out and about with you.
Let's say, for example, you have a young toddler and you're going out for the day: you're going to need changes of clothes, nappies, coats, jumpers and maybe wellies (just in case it rains). Then there's all of your own things to carry around too.
Sometimes a changing bag just isn't big enough - one of these Trek Buddies would be, and you'd be able to spread the load across your back (as you can wear it like a rucksack) rather than slinging it over one shoulder and giving yourself back and shoulder ache.
Of course, you could use it for flying too and, if you do, these Trek Buddy cases conform to the hand luggage size restrictions. OR perhaps it would make for a good, robust school bag for older children and teenagers - accommodating the ten tons of books and rubbish they haul around with them on a daily basis.
Personally, I'd arrange to pop into my local Home Bargains store to collect my Trek Buddy carry-on hand luggage cases - but then I'm seriously tight-fisted when it comes to paying for delivery, which would be a few extra pounds.
Happy carrying hand luggage!