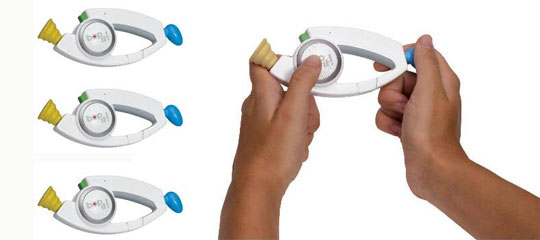 Argos are selling this rather cute Travel Bop It for half price, it's £4.99 at the moment instead of £10.19.
Ooooh a Travel Bop It! If you've not played Bop It before then this won't be the best introduction to one of the most addictive electronic games I've come across in a long time but, if you have  a Bop It already then this Travel Bop It is probably already in your  Argos shopping basket.
For the uninitiated, Travel Bop It is a small pocket-sized version of its bigger brother - which has various activity knobs on the Bop it: twist it, pull it, flick it, spin it and a big round Bop It button on the middle.
Travel Bop It has some of these along with a new SHOUT IT instruction.  Bop It issues an instruction, "BOP IT!" and you have to do what it says.  Then it will give you two instructions, "BOP IT! Flick it!" and so on.
All of these are done to various funky rhythms and it is COOL.  My eldest son got a full size Bop It a fair few Christmases ago (they didn't make a Travel Bop It then) and everyone spent hours playing with it over the holidays.
If you're a Bop It lover and have been frustrated at not being able to Bop It on the move, because your full sized Bop It is too big, then grab yourself a Travel Bop It and be frustrated no more!
Thanks to wishihadadonkey at HUKD