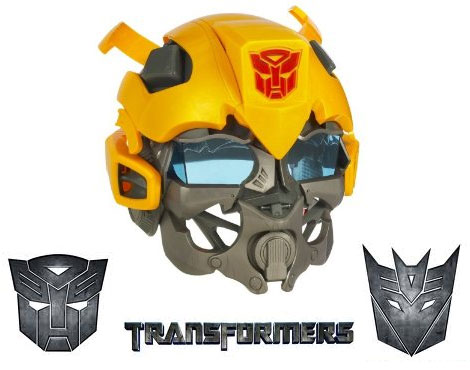 Shop.com are selling this Transformers Bumblebee Helmet for £15.99 instead of £39.99; they are by far the most discounted available AND one of the few places that actually has stock.
This Transformers Bumblebee Helmet is available in Argos too, for click and collect only, at £16.99 but if you can find stock locally to you then you should also buy a lottery ticket because you're luck is clearly IN.
My youngest has discovered the joys of Transformers - they seem to have eclipsed his love for Bakugan and now it's all about the Decepticons v the Autobots.
He has some two favourites: Megatron (that's my boy!) and Bumblebee.
It's funny, because I'm not overly fussed with Bumblebee but he seems to be one of the characters that sells out the fastest whenever anything of his is discounted; don't say I didn't warn you.
This Transformers Bumblebee Helmet is something kids will just go crazy for; instead of putting on your own funny Bumblebee voice, simply put on your Transformers Bumblebee Helmet and it will change your voice for you.
It's fully adjustable, fit head sizes ages 5 through to adult - oh come on, you KNOW you'll want to have a go!
Delivery from shop.com is £3.95 and the 3 AA batteries needed are included with your Transformers Bumblebee Helmet too.