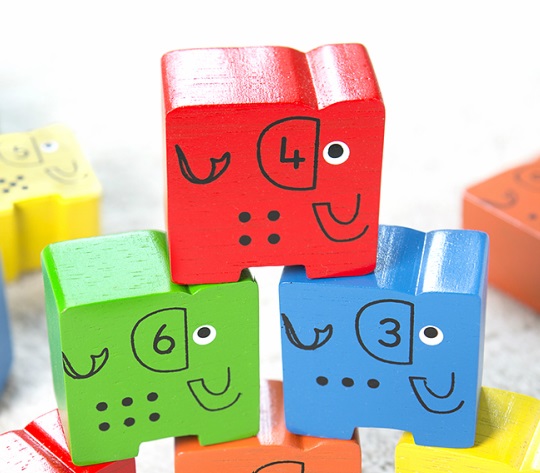 The youngest member of our family is just entering that toddler stage, where they're not really babies anymore but they're not quite into pre-school stage. I got her three toys that are just perfect for her from Traidcraft.
I've bought toys from Traidcraft before. They are priced really well compared to other sources of wooden toys, and I have the joy of knowing that the person who made them received a fair price for their produce.
How did we get on? Were these new toys just as good? Read on to find out more.
Elephant Stacking Blocks
As any parent of an older baby knows, one of the first things they like to do is try and stack stuff. OK so that's not quite true. The first thing they will most likely do is gum on whatever they have in their hand. But after that you can start to help with their co-ordination by teaching them to stack.
The Elephant Stacking Blocks (£10) are just gorgeous. Brightly coloured, cute, and a good chunky size that's just right for little hands. Each elephant in this ten piece set has a painted number plus the corresponding amount of dots. Our tester did a bit more gumming and throwing than stacking but it was still fun for baby and parent alike.
From the grown ups perspective, this is particularly ideal as a gift. The blocks come in their own cotton, drawstring bag and this looks lovely and presentable. Not to mention practical for the parents who will have to try and keep all the blocks together!
Overall verdict: 10/10
Kangaroo Jigsaw
At £5 I think these are really excellent value. The Kangaroo Jigsaw is big and chunky enough to sit upright when fully assembled, and the pieces fit together really well. The jigsaw is made from hardwearing albesia wood.
Each is an appealing primary colour, and each piece is numbered. Number five sits about where the pouch would be, and is cutely designed as a little Joey. The puzzle is bigger than I was expecting for the price.
On the downside, this puzzle is marked as not suitable for children under 3 years of age. I am not entirely sure why, I can't see anything that would be small enough for a child to swallow, but for now it has to go on the shelf.
Overall verdict: 9/10
Snail Jigsaw
The Snail Jigsaw (£5.50) is a favourite of mine, and I've bought this as a gift before. It is a little smaller than the Kangaroo, but still bigger than you might expect and nice and chunky for little hands. Unlike the Kangaroo there's no age restriction on this one, so our little tester was able to start playing straight away. Like the Kangaroo it is also made of albesia wood.
It took a lot of help from mum to get the puzzle back together, as she's still too little to do it independently. But the look of satisfaction was enough. The pieces fit well enough together that it could take a bit of moving about before little hands pulled the puzzle apart (as much fun as putting it together, if not more!).
The pieces are brightly coloured and numbered as well. .
Overall verdict: 10/10