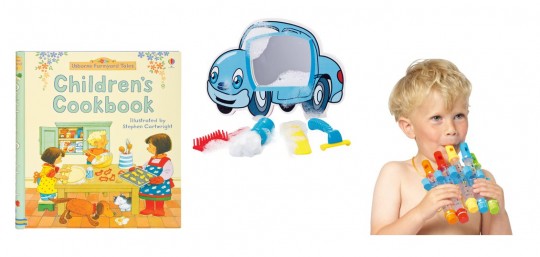 This is a rather unusual offer with savings on odd things. All the toys in the sale range in price from £5 to £10, so if you buy five £10 toys, you could save as much as £30 – if you buy five £5 toys, you still save £5.  Postage is an additional £3.85.
There are a few recognisable toys in this sale and then a few random strange things. You can find, for example, water flutes for £7 – a very similar looking set at ELC is currently £10 -  but of course if you're buying four other items,  you're not paying more than £4 for this item.
There's a play shave set for toddlers to be just like their Daddies… it includes a plastic razor, shaving brush, mirror, comb and hairbrush and ideal for playing in bath time bubbles – and you can see what you're doing with the mirror that sticks to the side of the bath.
You could also improve your masterchef skills with the UsborneChildren's Cook book – great for beginners of all ages. £8.99 on it's own, you'll still only be paying £4 for this in conjunction with the other toys.
I don't know about you, but we have enough friends and parties coming up that having a few 'across the ages and stages' gifts in the cupboard is never a bad idea!
Thanks to teachelly at HUKD