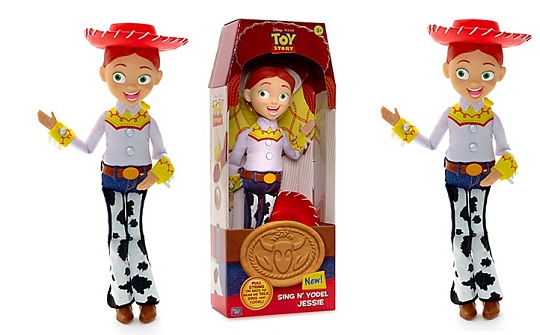 This is the lowest price I could find for the Toy Story Sing n' Yodel Jessie Doll. The Disney Store has reduced it from £25 to £15. The best I could find elsewhere was £20. You still have to pay delivery of £4.95. It has been reported that the toy is available instore as well at this price, so if there's a Disney Store near you it might be well worth a phone call.
The other toys in the singing/talking range are still priced at £25 unfortunately. It looks like only Jessie is reduced at the moment. She's a great character. We first meet Jessie in Toy Story 2, when she's been locked up in storage for years. Then she joins Woody and the gang to become one of Andy's toys. She's known for her adventerous nature and her ability to yodel.
This doll looks, and sounds, just like feisty cowgirl Jessie from Toy Story. With a rag doll style body, detailed rubber head and removable hat, there's also a string on her back which makes her speak film phrases and yodel too!
Jessie speaks 21 phrases, and measures 45cm high and 17.5cm wide. The toy takes two AAA batteries, which are included. Jessie is suitable for children aged two to eight years old.
Thanks to Arcturus at HUKD!