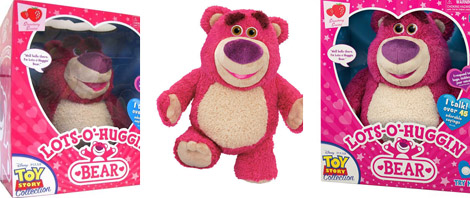 The enormously popular Lotso Huggin Bear from Toy Story 3 is back in stock at Tesco Direct. They have marked him down from his usual retail price of £49.97 to £39.97 but stocks are limited so get there fast if you want your own Lotso Huggin Bear in time for Christmas.
This bear is some kind of awesome really. I know that £40 is a lot of money to pay for a toy, and I can't bring myself to spend the money, but the fact that he is so big and smells of strawberries is just awesome.
Not only does Lotso Huggin Bear smell of strawberries (I wonder how long that lasts for?) but he also reacts to hugs and the sound of your voice. If you tickle his right or left foot then he laughs and giggles. If you press his left paw, the Lotso responds to the sound of your voice. If you press his right paw, then he will spout a bunch of Lotso phrases.
Batteries are included and Lotso Huggin Bear is suitable for children over the age of four.
Thanks ViperKeith at HUKD!