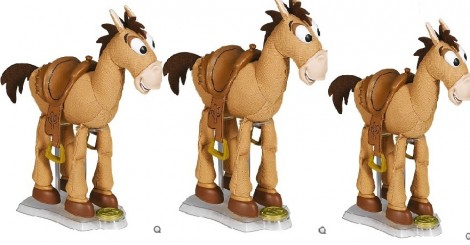 This last Christmas my daughter wanted Bullseye. I thought that he would be easy enough to get seeing as Woody and Jessie were the main characters from the show. I couldn't have been more wrong. Bullseye was sold out everywhere and cunning souls on eBay and Amazon were selling him for over £100 when his retail price was only £45 or so.
Now Very have marked the deluxe Bullseye version down from their RRP of £40 to £32 which is a saving of £8 and includes free delivery. This toy is still vastly over priced in my view but it does have quite a few cute little extras that make him very lovable.
Bullseye has galloping and trotting sound effects along with realistic neighing sounds and whinnying. He also responds to voice stimuli so if children talk to him he will talk back. The horse needs three AA batteries and is ideal for kids over the age of four.
He also does not stand unsupported by the way – he needs that stand to, well, stand…
Thanks to mai at HUD!