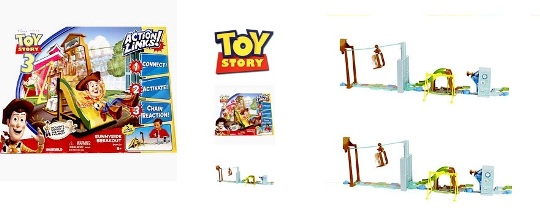 This is a great deal! The Toy Story 3 Sunnyside Breakout Stunt Set has been reduced from £26.99 to £6.99, a whopping saving of £20, at Home Bargains online. This is an excellent price for a toy that would make someone a lovely Christmas gift.
The Toy Story 3 Sunnyside Breakout kit includes three stunts and the Woody and Big Baby figures. Kids can escape from the toy basket, ride the zipline, and slide down the slide with each stunt triggering the next one.
If you connect the action links then it will activate a chain reaction and the stunts can work in any order you like. The set is easy to connect and assemble and is ideal for kids over the age of five.
Inspired by the movie and clearly brilliant for encouraging thinking in 3D and problem solving, the set will keep those little hands busy on the cold winter nights. Brill.
Thanks to helen79 at HUKD!