Toy Story 3 Jet Pack Buzz Lightyear £28.80 @ Debenhams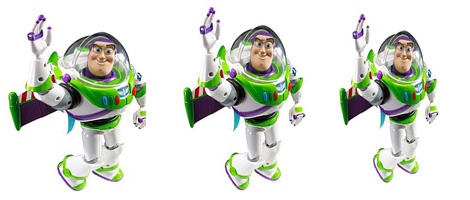 Toy Story 3 toys and paraphernalia look set to be the biggest Christmas gifts this year. This particular toy, the Buzz Lightyear with a jetpack, is a fabulous gift that's been marked down from £40 to a lovely £32. Use the code PXCP to drop it down even further to £28.80 at Debenhams.
This particular Buzz Lightyear toy is one that I've been drooling over but really haven't had the guts to buy. It was just too expensive for me. Now that it has been dropped down to this tasty price, though, I am seriously reconsidering my position.
This Buzz Lightyear figure includes the cool rocket pack with afterburner jet lights and sounds. He comes with the hilarious laser arm lights, movie phrases, a retractable helmet, pop out wings and you can move all his arms and legs.
I love these toys, they are just like the movie toys (obviously) which does make me want to peek around the door at night to see if they are playing and living. Just like the movie.
Thanks to aliciashea at HUKD!