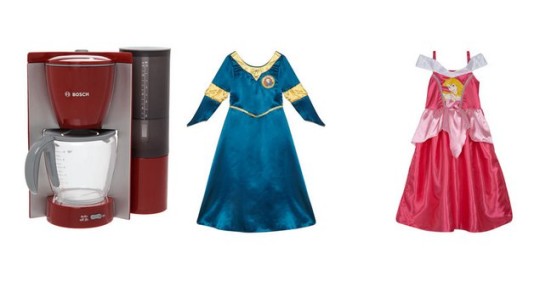 TK Maxx has some great prices on kids toys at the moment and with free delivery this weekend it's a great time to start thinking of - ahem - gifting occasions. But if you can get gifts they'll love at prices you love, why not.
We love the Bosch Coffee Percolator* for £6. The kids toy replica coffee maker has child friendly functions and a real water filling option, so you can actually wet you lips on all those pretend coffees you'll have to drink. These are around £12 on eBay so a great saving, especially considering the free delivery.
We're also loving the Fancy Dress sale*! There are 4 Disney Princess dresses to choose from- Jasmin is out of stock - but each of these is currently only available in one size option, so check to see if it fits your needs before adding to the basket. If they're the size you need £7.99 is just great. Stock does look limited on these though, so act quick if you want one.
Have you found anything you like?