Toy Cash Register £7.99 @ Yellow Moon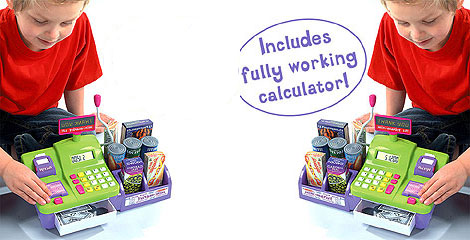 Yellow Moon are selling this toy cash register for half price, it was originally £13.95 but is now £7.99.
I never had a toy cash register when I was a little girl; my best friend had one and I loved going over the road to play 'shops' at her house.
I enjoyed my Saturday job in Argos most when I was 'on the tills' and I wonder if this explains why I'll tend to use the self-service checkouts at Tesco whenever I can?!
When my youngest went to nursery the 'nursery shop' was always one of the most popular play areas and there were often tears from those who didn't get to push the buttons on the toy cash register.
This one is rather grand - it features a fully working calculator, play microphone, receipt dispenser, play tin cans and cartons plus assorted play notes & coins; how AWESOME, I would have gone mad for this 35 or so years ago!
You'll need 2 x AA batteries to power your toy cash register and it's suitable for little checkout staff aged three and over.
Thanks to lady lowe at HUKD