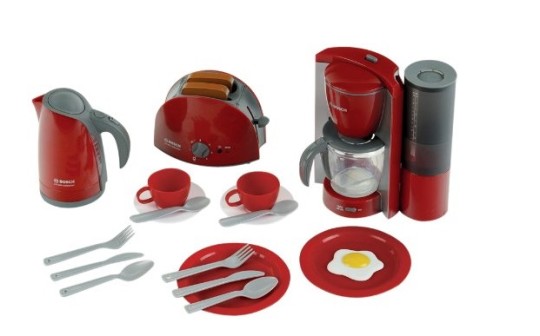 The Bosch Breakfast Set at Amazon is £9.48 reduced from £29.99. I've looked around and there's no where else I can find it for under £20, except for eBay.  Annoyingly you're 52p under the free delivery threshold, so you could look at adding something like the Disney Princess Paper Cupcake Wrappers (Pack of 24)* for £1.37, making the cost to you £10.85, and you can make cupcakes while the little one plays ;)
I love how realistic this toy Bosch Breakfast Set looks. It's just like the real thing, perfect for allowing little ones to do what mummy and daddy do in the kitchen.  Which is pretty much exactly what the reviewers on Amazon say:
I brought this for my 18 month old son who has desperately been trying to get to the toaster and kettle to copy Mummy and Daddy! It arrived today and he loves it! He pretends to poor the water into the tea cups and keeps making toast! Brilliant! Lots of fun and a bargain too!
The set includes a kettle, toaster, coffee machine, 2 plates, 2 cups, 2 saucers, 2 knives, 2 forks, 2 spoons, 2 teaspoons, 2 slices of toast and a fried egg.
It looks like an amazing gift to me, especially at the price.