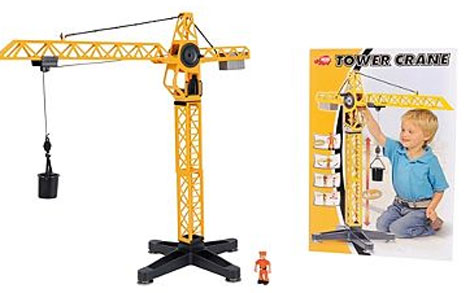 Debenhams are selling this Tower Crane set for £4.05 instead of £15.00.
If you're the sort of person who clicks the link first and THEN reads the post then you'll have noticed the Debenhams site has the published price for this Tower Crane set at £4.50, if you use the following codes at the checkout not only will you get 10% off (making it £4.05) but you'll also get free home delivery too:
Use code PV79 for 10% off and SHD1 for free delivery.
If your child - boy or girl, let's not conform to gender stereotypes here - is a bit of a construction site fan, then their going to love this Tower Crane Set.
There is something fascinating about huge cranes (I think), perhaps it's the fact that they're so big and look like they could just pick you up at any moment and move you w a y over somewhere else?  Or maybe it's just because if you're the tower crane driver, YOU get to be in control of such a mechanical monster.
My youngest has something very similar to this Tower Crane set and he's spent many a happy hour winching things up in the bucket, swinging the crane arm round and lowering whatever was in said bucket somewhere else.
This Tower Crane Set is nice and simple; no batteries required, no bells, no whistles just the crane and a crane driver figure.
Thanks to leecroot at HUKD