Tots Bots 5 Pack Easyfit Cherrylicious £35 @ Tesco Direct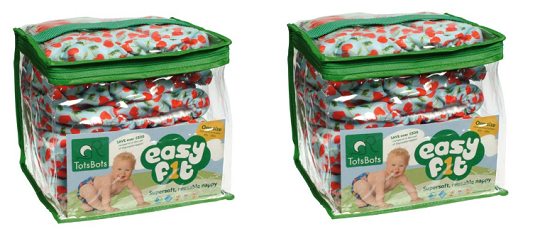 Tesco Direct is selling the Tots Bots 5 pack in Cherrylicious print for £35 instead of the usual price of £69.99. This is a whopping saving of £34.99 – only 1p off half price, hahaha – and you can click and collect instore for free.
Well, this is a far better option that disposable nappies. The latter end up in piles of landfill that cannot biodegrade and destroy the planet. These can be washed and re-used easily enough and they are absolutely gorgeous to boot. They have a waterproof outer so you don't need a separate cover, the core is fold-out for quicker drying and they are machine washable.
They are convenient and clever and have won tons of awards. The reviewers love them too with an overall score of 4.6 out of ten. We reviewed these a few years ago and they are an absolute gem.
I have a 14 month old girl, and had had a brief unsuccessful dalliance with cloth when she was born and given it up - but the idea was always floating about in the back of my mind to try. I have several cloth friends, all of whom recommended Tots Bots, because of their simplicity. My brief dalliance had been with a different brand. So knowing this was an amazing deal at sale price, I snapped up a couple of packets - because if all failed, I knew I could sell them on. Within minutes of handling them, I knew they are a quality product and I just knew we would get on. I was right
Thanks to ag3 at HUKD!