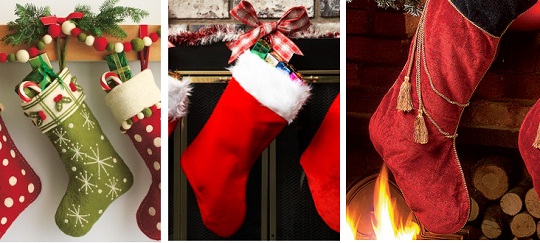 I did a Santa box last year, instead of a stocking or Santa sack, but the principle is the same. This was a sturdy, silver covered present box that I'd bought at WH Smiths, I think. Inside it was filled with all his stocking filler presents, individually wrapped. The advantage of the box (and why I thought of it) was that all the little bits could be popped back in there to keep from getting lost in the unwrapping frenzy.
Last year on PlayPennies we talked about the amount of money we would spend on the stocking fillers. Most people seemed to have a budget of around £20, and felt they were good at sticking to this. The cannier spenders made the money go as far as possible by snapping up bargains.
So here's the top ten hottest toys for children, and by hottest I mean cheapest, that are still in stock. I trawled through the pages of bargains that are posted on our sister site HUKD to find these for you. Read on for cheap stocking filler ideas.
Crayola Half Length Pencils £1.26
These Crayola Half Length Pencils are available still on Amazon, and if you've got Amazon Prime then delivery is free. Drawing and art supplies are always a good buy for a Christmas stocking, especially as it gives the kids a quiet activity to do later in the afternoon when perhaps they're coming down from the sugar high.
Magic Sketcher £1.25
We always seemed to get one of those cheap little Etch-a-Sketch copies in our stockings when I was a kid. They would only last about a day before the plastic film peeled off, and the cardboard frame came apart, but we'd have got our money's worth out of them by then. These Magic Sketchers from John Lewis come in three different designs. I can't see what they're made of on the site, but it looks like it could be cardboard. Delivery is free if you can collect in-store.
Lego Star Wars Darth Vader Keylight Torch £5
If you've got a kid who likes Lego, and Star Wars, then this would be an ace present. Especially as it has a torch. With the dark nights setting in so early, my other half has taken to that excellent after school activity of playing hide-and-seek in the dark in the playground at dusk. The boys love it, as it adds a bit of adventure to things. Running around in the dark in the garden with a torch was a favourite game when I was a kid too. It is scary, but a safe kind of scary.
This Lego Star Wars Darth Vader keylight torch available at Play.com is really quite cute, and would make a good present for a grown up too. Delivery is free.
Lego Disney Pixar Cars 2 Classic Mater £2.49
The Lego Disney Pixar Cars 2 Classic Mater is now back in stock on the Argos website for home delivery, so you can add it if you're doing a large order. Still best to reserve for free instore collection though, if you're not. My son got one of these in the summer holidays, and I have to say I was impressed. It is a challenge for younger kids, but with a really well laid out instruction booklet not impossible for them to put together on their own. Plus, it stays together really well. It has been a few months now, and all the pieces are still on my son's Mater. Hurrah!
Carousel Wooden 60 Pieces Train Set £8.84
If you're like me, and like to have one largish stocking filler plus a few smaller ones, then this Carousel Wooden 60 pieces trainset from Tesco Direct could be a great bargain. In fact, I've ordered this myself as all the wooden sets fit together, and my son still gets a great deal of enjoyment out of the Thomas one I bought him a few years ago. Each year, I buy him some more wooden tracks/accessories for the set. So I think he'll love this!
3rd & Bird A Very Squooky Christmas 99p
If you've got a pre-schooler then you probably can't go too wrong with this one. 3rd & Bird is a TV show on the Cbeebies channel. It is a cute little animation, in the cut-out-pictures that move style, with lots of singing. I have to warn you though that the tunes aren't exactly the most, er, tuneful. This 3rd& Bird A Very Squooky Christmas available from Bee.com has the title episode on it, plus 8 episodes in total. Delivery is free.
Melissa & Doug Magnetic Wooden Animals £5.99
We're all a bit sick of plastic tat, if we're honest. It seems mostly unavoidable, but then comes along a cheap but lovely toy like this. These Melissa & Doug Magnetic Wooden Animals are on sale at Amazon. Delivery is free if you've got Amazon Prime.
And Finally ...
Have you found any mega bargains for your stocking fillers? Share them with us here! There's now prize but you will have complete awe and admiration from us all for your bargain hunting skills.