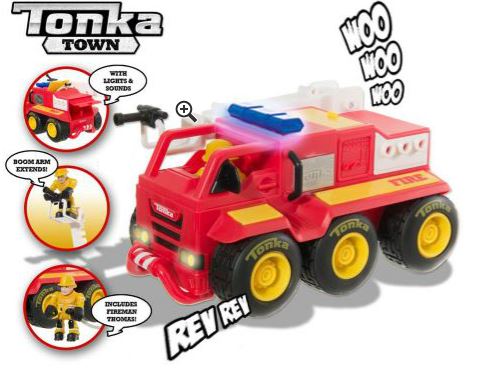 Argos has a rather fabulous offer on the Tonka Fire Truck toy at the moment, with a price tag of only £4.99 instead of £19.99 - previously on sale for £14.99. The next best price for this toy is £19 including delivery from Tesco, or £29.94 inclusive from Toys R Us.
I took my kids to our local fire station a few weeks ago as I wanted them to see what a fireman in a fire  suit looks like - I've heard that kids often hide in fires as the firemen look scary in their suits, so should such an emergency ever befall us I wanted my kids to know what the helmeted creature coming towards them is. The firemen were fantastic. They let the kids have a climb around the trucks, and even let them spray some water with the hose, and suffice it to say, my girls are all about fire men right now, so this truck would just go down a storm.
The Tonka truck requires 3 AAA batteries, in return for which you get light up headlights, nnd fire engine sounds. You also get a detachable ladder and hose and an extending arm, storage compartment and opening rear door.  Of course, no truck is complete without a fire man, so there's one of those included too.
They aren't available for home delivery, and it says I can pick it up from my local store in six days, so I guess they're getting new stock in?
A perfect gift drawer accessory, in my book!
Thanks to ather7851 at HUKD