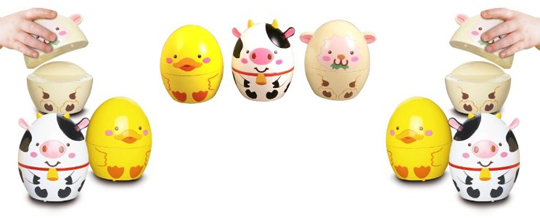 I absolutely ADORE these Tomy Animuddles - I've written about them before - and Tesco have the best price for them at the moment.  They're up for grabs with the supermarket giant for £5, elsewhere they're around the £12 mark.
These Tomy Animuddles are such a simple and cute idea for a tiny tot's toy and I can, pretty much, guarantee that any child who has them will LOVE them.
Each Animuddle has two halves - when you split them up and put them back together they make the sound that corresponds to the animal you've made.
So match the cow pieces and your little one will be rewarded with a 'MOOOO!'; put the sheep halves together and the result is a resounding 'BAAAAAAA!' in return for your efforts. There's a little chick too, 'CHEEP, CHEEP!'
But what I absolutely love most about these Tomy Animuddles is this: if you put the wrong top half with the wrong bottom half they STILL make sounds, so put the cow with the sheep and you'll get a 'MOOOO-BAAAAAA!'
How fabulous is that?  I do like it when kids are allowed to 'break the rules' and if your little one is anything like  mine all were, they'll get MORE pleasure from mixing and matching!
Thanks to wishihadadonkey at HUKD