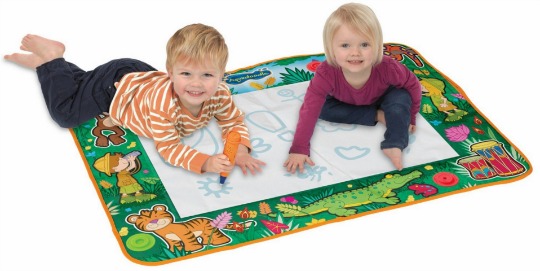 Amazon have reduced this Tomy Aquadoodle down to half price, but it's not just a regular Aquadoodle... this one makes Jungle Sounds! It looks like it's well worth it's new £12.49 price tag, especially as it's around £20 in most other retailers.
The TOMY Jungle Magic Sounds Aquadoodle has the regular feature of a water pen that can be used to create mess free pictures, and as the mat dries out the images disappear ready for the next time. But you can also press on one of the sounds spots with the pen to activate a jungle sound! There's a snake sound, jungle drums, a tiger sound, and a monkey sound which sounds like great fun for young children. The mat can be folded up for storage and to make it easy to take with you, and it's suitable for ages 18 months and upwards.
We have the original Aquadoodle that my eldest had from around two years old, and he has been showing my youngest how to use it. We started off trying hand prints and foot prints using a tray of water (total failure) but finger painting with wet fingers or sponges works just as well as the pen for those developing their pen control. It's enormous fun, and has lasted us for years, though I am very tempted by this one as like most toddlers mine is fascinated with animal sounds.
Amazon Prime members get free delivery, orders over £20 qualify for free delivery also, otherwise charges will apply.