I'm sure we've all seen or at some point owned something from the Tiny Tatty Teddy range, right? And just when you think there's no more they could possibly bring out, something super cute appears on the shelves. Tiny Tatty Teddies are the one range of teddy bears even adults shamelessly collect, and now they have a new range of functional toys and products for babies.
The items featured in this review aren't available online yet, but when they are, you'll be able to find them at By Carte Blanche, where you'll already find a whole range of baby goodies. These products will be available in the next few months.
We were sent three items for our little girl to review – which was a nice thought, but since she can just about stop herself short from  hitting herself in the face involuntarily, she's not really at the playing with soft toys stage yet. As such, this is my review, from my perspective.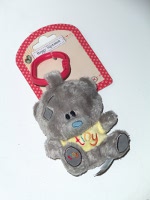 As the name suggests, the Buggy Squeaker has a squeaky centre, which when pressed emits a squeaky sound. I do think this is more for parental diversion, rather than for the child to play with as it requires quite a bit of force – even my two year old couldn't really get the full squeak out of it.The Buggy Squeaker (£6.99) is a soft and squishy Tiny Tatty Teddy with a yellow t-shirt, with the word 'tiny' written on it.  It's has a buggy loop on it which can be twisted to open and attached to a buggy to keep it safe. We don't use a buggy, so we've attached it to the arch on our playgym for testing purposes. You'll be happy to know it hangs perfectly ;)
The buggy clip is quite wide, which is nice because if you're a sling-wearer, you can put the Tiny Tatty Squeaker on your shoulder strap for on-the-go entertainment too.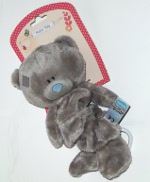 Next up is the Musical Teddy (£16.99). This is a musical pull-toy. You activate the music by pulling the legs away from the body. As the body gathers again, a little melody plays. It's only about 25 or so seconds of play time, then you have to pull the string again, and I can't quite place the tune, though it is very familiar.
While activating this toy has a similar problem as the squeaker for babies, it has a tie at the top, so you could tie that to one end and let natural force do the rest as baby pulls on it. It certainly provides a lesson in cause and effect: put in the effort and you get music. Although that's way too much life lesson for a 9 week old, who just lies looking at it.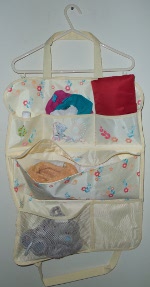 While toys are always nice, something practical that can help with clutter and disorganisation is always helpful when it comes to babies and children. The car seat organiser (£14.99) is quite a useful concept and is a definite preference to a back seat filled with car toys, random wet wipes and whatever else comes with a car-and-children.  It's really handy if you're as notoriously disorganised as I am. I never go out with snacks and consider it a good day if I open the nappy bag to find both nappies and wipes.
The organiser has three shallow pockets for small items – think a snack pot, extra nappy cream or smaller items – a long covered pouch, ideal for nappies, a change of clothes, a burp cloth and other items that can be folded up quite flat, and two net pouches, which is probably where you'd keep excess toys and so on.
While I do like the idea of the car seat organiser, I do think it could have done with a bit more thought. For a start it's polyester, so doesn't have a large amount of 'give'. I guess you don't want a storage unit in your car, but that seems to limit it quite a bit. Also, for something made for car tidiness, it could have done with a few loops to hang loose toys on. I know my daughter is forever taking things off the play gym arches, and off the play mat and car seats toys to cuddle, so they end up on the floor of the car. Being able to attach them to the organiser with a stretchy string seems like a missed opportunity to me.
The design on this is really pretty  - they've definitely gone for cute and achieved it. I must say though – even if you don't have a car, you could attach this some way to something in your play room, like the back of the door and it would make a pretty, handy, nifty and streamlined changing bag for a non-baby room, like the living room.
Verdict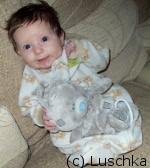 These are all very pretty, great quality, excellent workmanship and a lovely gift from a known and loved brand. It's probably because they're known and loved that they're so expensive though. I do think they are expensive. While I would pick them up and look at them and uhm and ah over it, I doubt I'd buy them after looking at the price tag (with the exception of the car seat organiser, which I think is a reasonable price.) But maybe you have more money than I do, or you're looking for a gorgeous gift and are not too fussed by the price. If that's the case, these are brilliant, and I say go for it.