Timmy Time Toy £5.99 @ Sainsburys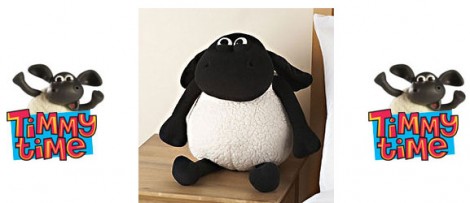 *singing* "Timmy…it's TIMMY…he's a little lamb with a lot to learn…BAAAAA!!!!" Sainsbury's are selling this HUGE Timmy Time Toy for 70% less than his usual retail price – £5.99 instead of £19.99.
We've featured this deal before so if you thought you'd missed it now's your chance to grab one of these huge Timmy Time Toys; Timmy Time fans rejoice!
I'm not sure who enjoys watching Timmy Time more in my house me, my youngest (4 and a half) or the big kids (15 and 16) but if you haven't watched Timmy Time on Cbeebies then, quite frankly, you haven't lived!
This Timmy Time Toy doesn't do anything; he doesn't dance, he doesnt' sing, he doesn't require any batteries and he won't cook the dinner for you.  But he WILL provide hours of cuddly pleasure for your little 18 months, or older, Timmy Time fan.
He 33cms tall and reveiws all go along these lines...
Super soft gorgeous Timmy!! Squidgy enough for a toddler to carry everywhere.
What a fantastic bargain & what a fantastic burst of giggles from our granddaughter.... worth every penny. It comes to something when a soft toy gets more attention than anything or anyone else.
There's no delivery to pay if you arrange to collect your Timmy Time Toy in-store at your local Sainsbury's otherwise standard home delivery will set you back £3.95 and take between three and five working days.
Ahhh if only it could be Timmy Time ALL the time!
Thanks to AATS at HUKD