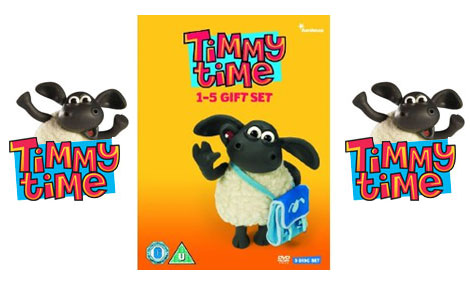 Amazon are selling this Series 1 to 5 of Timmy Time DVD box set for just £14.97 - it should be £29.99.
I love this show!
Timmy Time is one of the few Cbeebies series that has me watching alongside my child, without losing the will to live or wanting to poke my eyes out with forks.
Timmy is the baby cousin of Shaun the Sheep, of Wallace and Grommit fame; he's funny, cute , very cheeky and great entertainment -  350 minutes worth of Timmy Time entertainment with this Timmy Time Series 1 - 5 box set in fact.
Timmy is a little lamb with a lot to learn and he gets up to all sorts of mischief at nursery along with his cute little friends.
He's just turned three in sheep years (baaa) and he's learning how to get along with other animals, under the watchful eye of Harriet Heron and Osbourne Owl.
The set includes five DVDs covering the first five seasons of the show and has all the episodes your kids have come to know and love.
Thanks to debadwolf at HUKD