Tell The Time Orchard Toys Game Review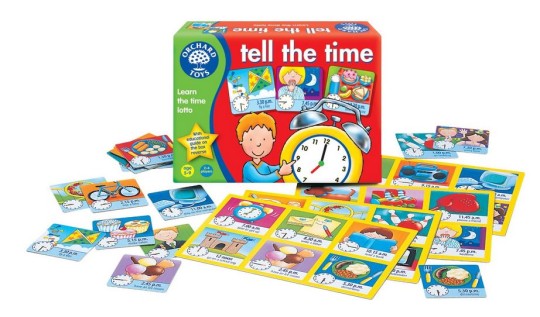 Orchard Toys are educational toys, made in England for children between 18 months and 12 years. Tell The Time is a game for 5 - 9 year olds, although that is child dependent and if you have a younger one learning to tell time, it's worth investigating.
Tell The Time* (£6 at Amazon today) pretty much does what the title says. It's a bingo style game, where two to four players take a board each, and all the cards are put in the centre of the group, face down. Each player takes a turn, and if they have the matching block on their board, they cover it with the card. The game goes on until the first player fills all six squares.
I would say that a player needs to have an understanding of how to read time before they can play this game they're meant to, but because the cards match pictures too, younger players are able to play along even if they can't read the time. This is great if you have two children in different age groups to try to entertain at the same time.
I like that the game uses both a digital and an analogue clock, so children can learn to read the clock by sight too. I think it helps them recognise it faster.
The boards themselves are really sturdy and the cards are too. They are really good quality, the images are bright and bold, and they are fun for children to talk about - really useful if you're trying to get children into specific routines too: we used the cards to draw  a parallel of our days, which made explaining times easier too.
The box itself is also sturdy and strong, so you can store the game pieces in it when they are not in use.
You get a set of instructions in the box, but it's pretty easy to figure out and then to make up your own games too - my girls are great at that.
The game does link with the National Curriculum, it teaches turn taking and clock reading, but it's also fun. And if you happen to have the Penguin Clock Face, you'll be able to use the game with that too.