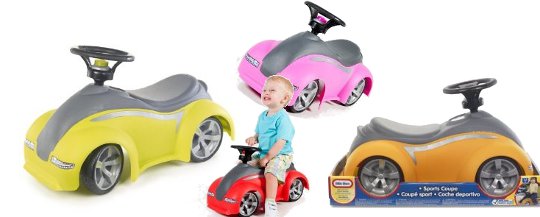 The Little Tikes  Sports Coupe is reduced from £34.99 to £29.99 at Amazon. It's not a huge saving, but 14% is still a saving, and it's a pretty funky looking ride-on.
At our local soft play centre the Little Tikes ride-on car is  the one toy that kids constantly fight over. I actually think they keep it there specifically to cause the mums to end up speaking to each other because I've met two of my friends sorting out squabbles over that ride on!  It's not the Sports Coupe though – I can imagine that would just be all out war!
This Coupe has a direct steering linkage for 'sporty handling', and it has deluxe treaded tires and sporty rims.
It also  has a working horn and is apparently quite a sturdy and durable construction – which it would have to be!