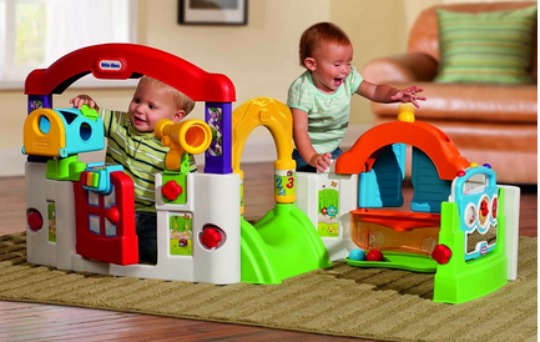 My littlest one Daniel, is 16 months old and is needing entertained every minute that he is awake. He isn't overly fussed with his little toys but pull out something that takes up half of the living room and his eyes light up. This Little Tikes Discover Sounds Activity Garden is just the kind of thing that he loves. Amazon are selling it for only £55.99 including FREE delivery, whereas it sells for £70 at Debenhams and £69.99 over at Argos.
The Little Tikes Discover Sounds Activity Garden is raved about in the reviews. It has a very impressive 4.4 star rating and looks to be worth the £55.99 price tag.
It's jam-packed with activities including obstacle course a take-along double-sided play panel that has  mirror, learning clock, ball shaker, clicking bugs, and a language interactive telephone. Not forgetting the telescope, tap-a-tune piano and shape sorter mailbox.
This looks like oodles of sun for little ones and is suitable for those aged six months and above. It seems like one of those toys that baby will discover new elements of play with as they grow.