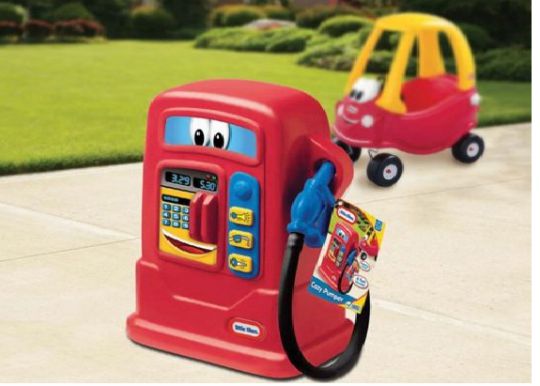 You can be forgiven for thinking that a Cozy Pumper is a pet name for your other half. It's actually a toy from Little Tikes, made to compliment that super popular Cozy Coupe. They normally sell for around the £30 mark so to get it from Amazon for just £19.99 is a real bargain. It's current selling price at Debenhams is £33 and at Argos it's £29.99.
The Little Tikes Cozy Pumper is an ideal present for a little one with a Cozy Coupe but also for those with any kind of ride on car. It's a really nice addition and will transform playing in a ride on car into a great role play game.
The Pump has electronic sounds, a credit card swipe mechanism and a fuel nozzle with linking hose. It's as close to real as you will get for the kids and I reckon they will LOVE it.
You can have the Cozy Coupe delivered for FREE if you have Amazon Prime or if you spend £20 or more. Just add something like this Betty Boop Pencil* to your order to bump it up to £20, otherwise you'll get stung with a £3.30 delivery charge.