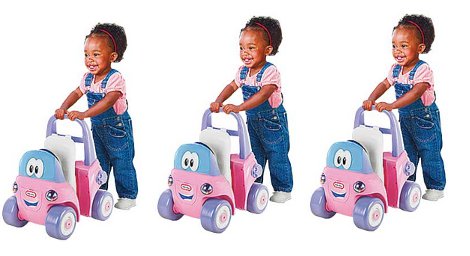 The My First Cozy Coupe Push-Along And Ride-On from Little Tikes is currently on offer for £14.99 at Argos, which is a lovely 50% off the original price.
The Little Tikes My First Cozy Coupe Push-Along And Ride-On toy is a versatile toy that should last a while as your child's abilities change, and at half price, definitely looks like a good buy.
It has something called a 'telescoping frame' and I honestly don't know what that means, but on the up side, it changes easily from a push behind walker to foot-to-floor ride-on.
There's a parent controlled button which safely locks the product in place in both modes to keep the little ones safe. There's also storage space under the hood, making that a convenient space to keep things.
There's a free moving steering wheel to help kidlets think they're in charge, with a squeaker horn for added authenticity. The Coupe does require 2 AA batteries, but I'm not really sure what for – perhaps the horn?
Either way, the Coupe is suitable from 9 months old, and designed in the familiar 'Cozy Coupe' style.
Thanks to nseaman at HUKD