Little Tikes Cozy Coupe 30th Anniversary £29.99 Delivered (Using Code) @ Toys R Us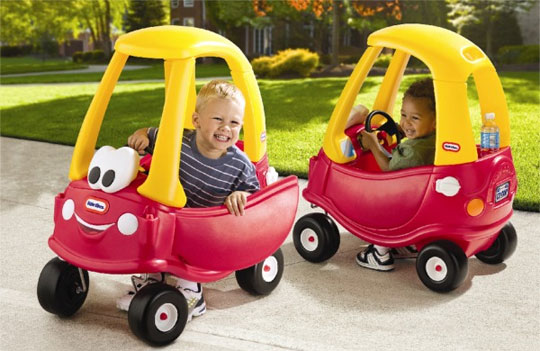 Toys R Us have the Little Tikes Cozy Coupe 30th Anniversary Edition reduced to £34.99 right now. Use the code BIRTHDAY4 from our voucher section and it brings it down to just £29.99 with free delivery too.
It's been a while since I've purchased one of these but Luschka wrote about this one from Amazon a few weeks ago and here's her thoughts :
I'm still in two minds on this, if I'm honest. I love it, and the kids love it, but man alive, it's the children's equivalent of road rage! I've seen a child pull another child out through the back window! Or try at least. They're brilliant toys for home - maybe less so for the soft play center. And they just never go out of fashion.
This is the 30th Anniversary of the Classic Edition.
The Classic Cozy Coupe has a high seat back and storage in the rear. This version includes a removable floor to protect the child's feet and a handle on back for parent-controlled push rides. It also has special features like an "ignition switch" and an open-and-close petrol cap. Cozy rolls on rugged, durable tyres and the front wheels spin 360 degrees.
It's a great outdoor toy for summer!
You'll find that voucher for Toys R Us and lots more over in our voucher section.
Thanks to Stacey on our Facebook wall for the heads up!