Three Tier Basket Unit £16.99 @ Argos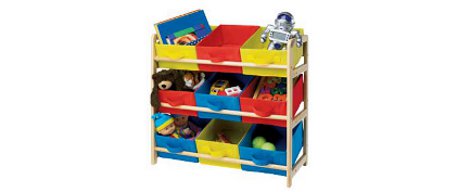 Maybe its because I'm in the middle of a house move that this nine piece storage unit from Argos appealed to me. The thought of more organisation for £16.99 – a £10.00 saving – seems like angel song right about now!
I don't think anyone particularly enjoys packing everything they own in to boxes, but this time seems so much harder. It might have something to do with the toddler unpacking at about the same rate as I pack. Or it might be that everything is anywhere that we could find a spot for it, rather than in any sort of sensible order.
That's where these red, yellow and blue storage bins would have been handy. Resting in a natural wooden frame the nine colourful boxes provide ideal storage for toys, books, baby shoes and socks, bibs, and a multitude of other items that otherwise end up under the sofa or the bed.
Requiring minimal assembly and available in store or online, there doesn't seem to be much need for the scattering of, well, everything, on my floor. Easy to move, the unit does not take up a huge amount of space, while still being big enough to make an impact.
Reviews for this item are very positive, with the only negative being the price – a problem addressed with this £10 off offer.
Thanks to ramnee at HUKD