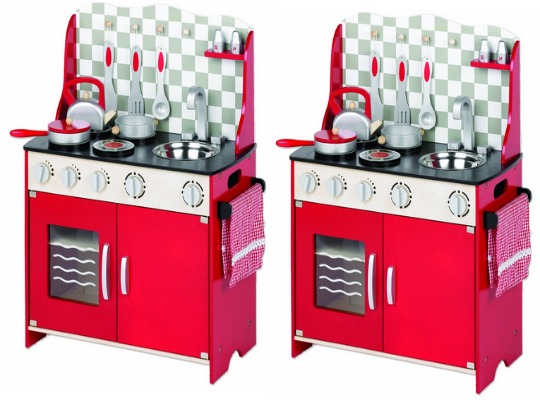 Here we have a UNISEX play kitchen, woo hoo! I have noticed an increase in play kitchens suitable for boys, and that pleases me. Why shouldn't little boys get the benefit of role play toys too? Right, before I go on a major rant, I had best tell you about this great deal. For just £59.24, you can bag yourself the Tidlo Kitchen Station from Amazon or Argos. Both are offering FREE delivery with this item,
The Tidlo Kitchen Station is ideal for those of you with limited space, as it isn't as bulky as other play kitchens. It's suitable for children aged three and above, and as it is short in height, I'd say it's better for a three or four year old, rather than a child older than that.
As well as the play kitchen station, you get a frying pan, pot with lid, three cooking utensils, a kettle, two condiments, a sink with taps and a tea towel. There's even a cupboard to store them in, and a rail to hang your tea towel.
There's plenty of features on this Tidlo Kitchen Station, like a hob, oven and the sink, as already mentioned. I think for the money, this will provide hours of fun for little ones.