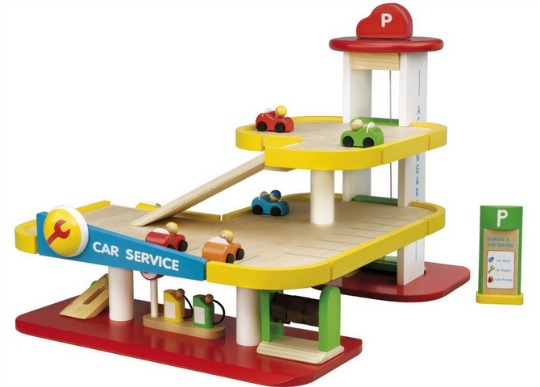 If you have a little one that likes to play with cars then you are in luck. The Tidlo Acorn Wooden Garage is just the ticket for those little car fanatics. It's just £32.98 with FREE delivery from Amazon which is a great price for this FIVE star rated toy at Amazon. You may see that there is an Amazon Seller called baby and play selling for £32.97 delivered but there feedback is at  just 93%, so you can have that peace of mind for 1p more.
The Tidlo Acorn Wooden Garage is a well made toy and I can tell you that as we actually bought one for my friend's son. He loves it and we paid £40 for it. Tidlo are well known for making good quality wooden toys and that's why we opted for this.
It's suitable for children aged three years and over. The Wooden Multi Storey Car Park has three levels with a lift and a ramp, so it's easy to navigate cars around this traditional looking toy.
What's great about this toy is that it comes with six little wooden cars. That's plenty for your child and his/hers mates to play with. It also comes with a Parking Sign and Petrol Pumps.