Thomas Toddler Bed £59.50 @ Amazon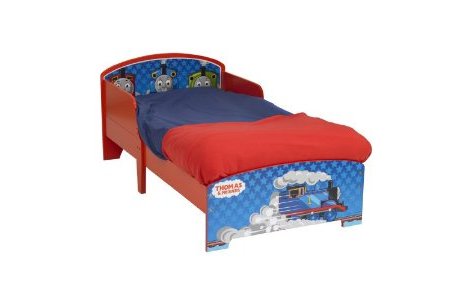 QUICK! Amazon have a rather fabulous deal on this Thomas Toddler Bed - it's currently £59.50 instead of £99.99.
There are also only a few left in stock BUT there are more on the way - either way, don't dawdle just in case they put the price back up again!
The more I look at this Thomas Toddler Bed the more of a 'Scrooge' parent I feel – none of my kids had character beds, they all had cot beds so went straight from those to full size singles, but both my eldest and my youngest were HUGE Thomas fans and they would have LOVED this.
Aside from kids loving character beds, they can be a rather good way of enticing your little one into bed if they've suddenly decided that bedtime isn't really for them and that sleep is for wimps!
This particular Thomas Toddler Bed has raised sides, at the head end, to guard against tumbles out of bed and the all-important dimensions are as follows: (L x W x H) 145 x 77 x 59 cm
All the usual Amazon delivery choices apply.
Thanks to mysmith at HUKD