"Hurry along to Debenhams!" said Thomas, and you should because this is an absolute BARGAIN for Thomas fans everywhere!
Morgan's Mine has been a firm favourite of my youngest since he received it for his birthday last July; 6 months on and he's just as enthralled with it as he was the day he unwrapped it....good old Thomas!
Tying in nicely with Thomas's first full-length film 'The Great Discovery', the Morgan's Mine track spirals down three levels and out onto flat tracks that you build on the floor.  There are various gates, tunnels and barriers along the way for the diecast models of Thomas and Stanley to go through - both of whom are included.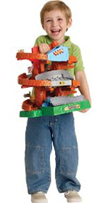 Push the big orange button on the top and you open the gates, sending Thomas and Stanley hurtling down the mine.  The light also flashes and Thomas' infamous PEEP-PEEP! with train noises or a sample of the Thomas theme tune are played.
In a bid to discover just what it is about this toy that's so captivating - all reviews I've read are equally gushing - I decided to ask my little boy.  "Beacauuuse...of the weather!" he said, as if explaining the blindingly obvious, "I can play with it in the summer and I can play with it in the winter!"  Ohhh of course, silly me!   However, he did come up with something a little more useful later, "I like the way they go down and down and round and round and can buffer-up at the top."  So now we know!
It takes 2 AA batteries (I can't see anything anywhere to indicate whether or not they're included) and you simply need to add these codes at the checkout to drop the price to £9.60 and get free delivery: 20% code: PY6P and free delivery: SHD1
"PEEP-PEEEEP! Enjoy!" says Thomas.
Thanks to Andywedge over at HUKD!