Thomas Rock And Roll Quarry £16.99 @ Smyths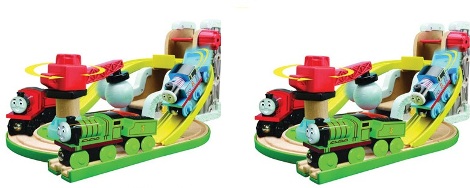 This Thomas Rock & Roll Quarry set usually retails for around £34.99 and is far more pricey at both Amazon and Tesco at the moment, certainly a lot more than the fabulous £16.99 that Smyths have it for at the moment.
The Thomas Rock and Roll Quarry is ideal for both entertainment and education and will give kids hours of fun and traintastic satisfaction. They can drive Thomas the tank engine and Stanley up and down Quarry mountain and pick up passengers to take to the station.
Kids can also roll the boulder down the chute, pick and load the boulder using the crane, and then load it onto the different trains to take to its destination. The kit includes a Thomas the tank engine with a cargo car, Stanley, three trackstiles, two boulders and a variety of destinations.
The tracks don't look very long in the image so I'm not sure how far you can drive your trains, and I am not sure you can get additional tracks to bulk it up. However, it is really well priced at only £16.99 and it is made from wood, which I far prefer to plastic!
Thanks to bubs866 at HUKD!