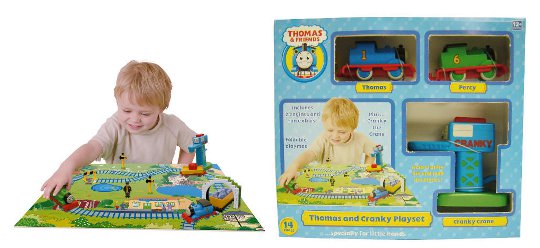 There's a simply fantastic offer on the Thomas & Friends, Thomas and Cranky Playset at Tesco Direct: It's reduced from £40 to £10, saving you a massive £30. At that price, it's the perfect gift to put in the cupboard for those last minute birthday party invites.
I know this is probably more of a 'boys toys' thing, but my daughter is going through a serious phase of loving trains and cars. We visited a playgroup recently and she disappeared for twenty minutes (I could see her, but still) with a box of wooden train tracks that she put together and then played with the trains! I was so impressed – I have no idea where she had even seen a wooden train track before!  We managed to get a play garage off Freecycle recently, and she's currently totally engrossed in that. And I'm totally happy to encourage unisex toys for play!
The Thomas and Cranky Playset comes with a foldable play mat, made of card, unfortunately, which doesn't smack of durability to me, but at £10 you can't really complain.
The playset comes complete with Thomas, Percy, Crank and the Fat Controller.
Thanks to 90DC at HUKD