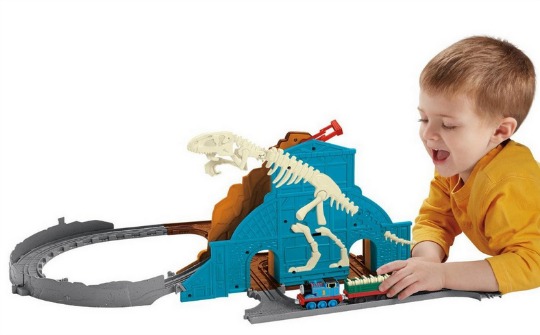 There are certain toys that stay in your heart forever from when you were a child. My brother had a Thomas the Tank Engine Train Set when he was little but I think I played with it even more than he did. This Thomas & Friends Take N Play Roaring Dino Run reminds me of that much loved toy. It's priced at just £21.79 including FREE delivery at Amazon just now. Whereas it's £35 at Debenhams and £27.99 at Smyths.
This Thomas and Friends Take N Play Roaring Dino Run Set has been rated four and a half stars on it's Amazon page. The reviews are mostly great about this toy.
It has a Jurassic feel about it with the dinosaur bones. It comes with a die cast Thomas train and what I think is a freight carriage. This set is based on a Thomas DVD and is made to re-enact a scene from that.
It might not look like much in the picture but this train set has sounds too as Thomas goes round the track. It's suitable for children over the age of three years old and it's a must for any little Thomas fan.