Thomas And Friends Children's Metal Folding Chair £3.99 @ Argos Ebay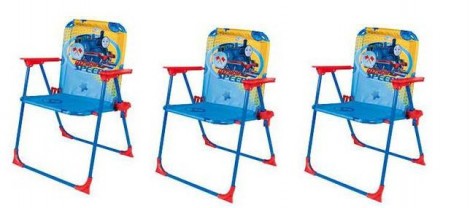 Argos Ebay have a Thomas And Friends Children's Metal Folding Chair on offer for £3.99. Add 99p for delivery and overall you're paying £4.98.
We actually own the Peppa Pig version of this chair, and while it's a little like Martin's chair in Frasier's lounge, (it sticks out like a sore thumb and doesn't match with anything else, in case you've never watched Frasier) it is a total hit with our little girl.
It's 'her' chair and she sits on it whenever she is in the lounge. We paid a bit more than £4.98 for our, but it's been totally worth it.
The Thomas and Friends version has a Thomas logo in it, and a tubular steel frame. The chair bit is fabric, but it's pretty strong and can handle up to 50kg of weigh – although you'd have to have pretty miniscule hips as it's only 38cm in width.
This is not an adult sized chair. It is only 53cm in height, so it's easy for a child to get on to and off of. It's also one of those 'funny' ones as they say it's suitable for children three years and over, but my daughter has adored hers since she was 18 months old!
Thanks to chuckiedoll at HUKD