Thomas And Friends My First Bike £28.99 @ Home Bargains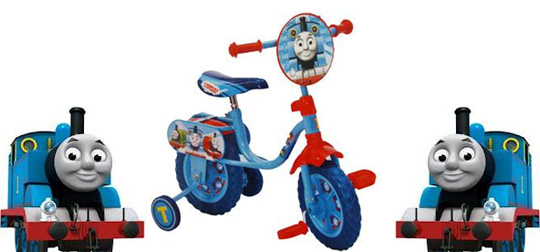 Home Bargains have a great offer on this Thomas and Friends first bike for little boys about to step into the brave new world of wheeled transport that isn't a push chair, pram or stroller. It was originally a whopping £69.99 (really?!) but is now a much more respectable £28.99.
Christmas is fast approaching; a mere 46 days away, in fact and bikes have always been a popular main Christmas pressie to give and receive; a nightmare to wrap up the night before, but always goes down well with the kids.
If you have a little Thomas the Tank Engine fan then this Thomas and Friends bike could be just the thing to bring a huge smile to thier face on Christmas morning - I know I keep mentioning Christmas, but if you plan ahead and get things well in advance then you can safe yourself a fair bit of money and a whole lot of stress.
The Thomas and Friends first bike is suitable for little chaps aged two years and over and boasts puncture proof tyres and rubber handlebar grips.  The steel frame is sturdy and is covered in plenty of bright  and colourful Thomas the Tank Engine graphics.
The 10 inch wheels have stabilizers on them to inspire confidence whilst getting to grips with all the pedal pushing and handlebar steering; talking of which, the saddle and handlebar height are adjustable too.
Happy first biking!